Research
Synthetic Carbon Allotropes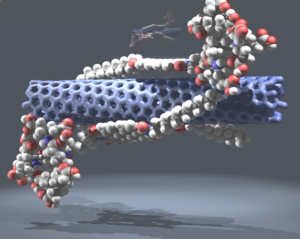 Synthetic carbon allotropes (SCAs) such as fullerenes, carbon nanotubes and graphene are characterized by a number of outstanding and unprecedented properties such as electrical conductivity, mechanical stability and transparency. They are often regarded to be among the most promising candidates for future high performance materials. To reach this challenging goal, chemical functionalization of the parent systems will play a key role. Covalent and non-covalent transformations of SCA can considerably improve and tailor their solubility and processibility and combine their properties with those of other compound classes. For this purpose we are exploring the fundamental chemical properties of SCAs and determine, for example, reaction mechanisms, selectivities of transformations and characteristic addition patterns. Binding of a large variety of organic building blocks including dendrimers, porphyrines, rylenes, sugars and peptides has been accomplished. Using our knowledge in wet-chemical functionalization of fullerenes, carbon nanotubes and graphene; new molecular architectures with remarkable functions such as photo-induced electron transfer, superoxide dismutation and protein simulation have been created. 
Selected Publications
Polycyclic Aromatic Hydrocarbons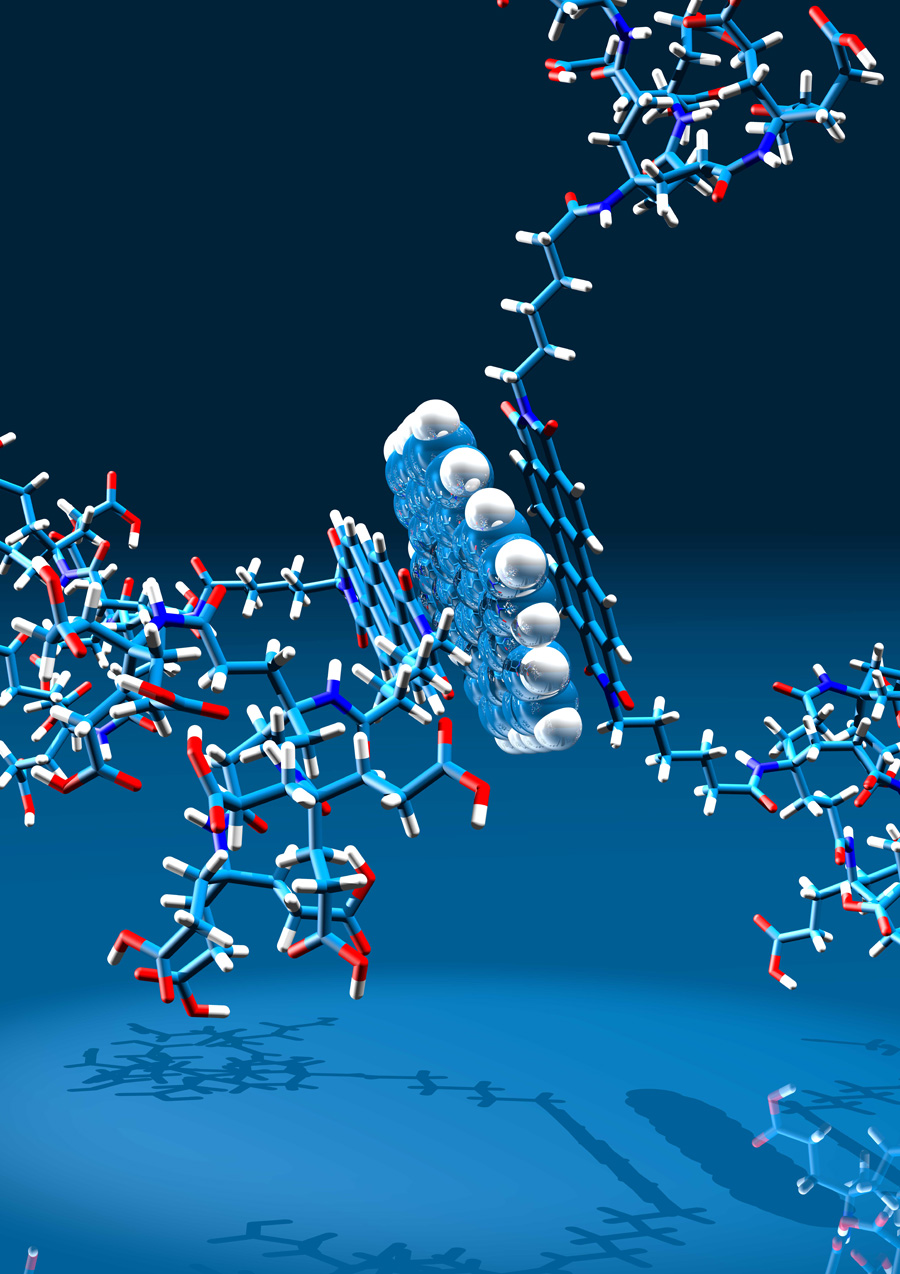 Polycyclic aromatic hydrocarbons such as hexabenzocoronenes and rylenes (naphtylenes, perylenes) do not only represent partial structures of – and model compounds for – graphene; they also represent attractive building blocks for new molecular architectures. We are particularly interested in using them as chromophores, as redox-active components and as structure determining tectons for functional hybrid molecules. Other compound classes that we are extensively investigating with respect to new derivatization concepts are porpyhrine based molecules and calixarenes. Among our accomplishments in the chemistry of all these conjugated π-systems are the first examples of water-soluble perylenes and their use for non-covalent graphene functionalization, dendritic metalloporphyines as heme-proteine models and amphiphilic calixarenes as building blocks for the first shape persistent micelles.
Selected Publications

DOI: 10.1021/ar300116q

DOI: 10.1021/ja211362z
Supramolecular Chemistry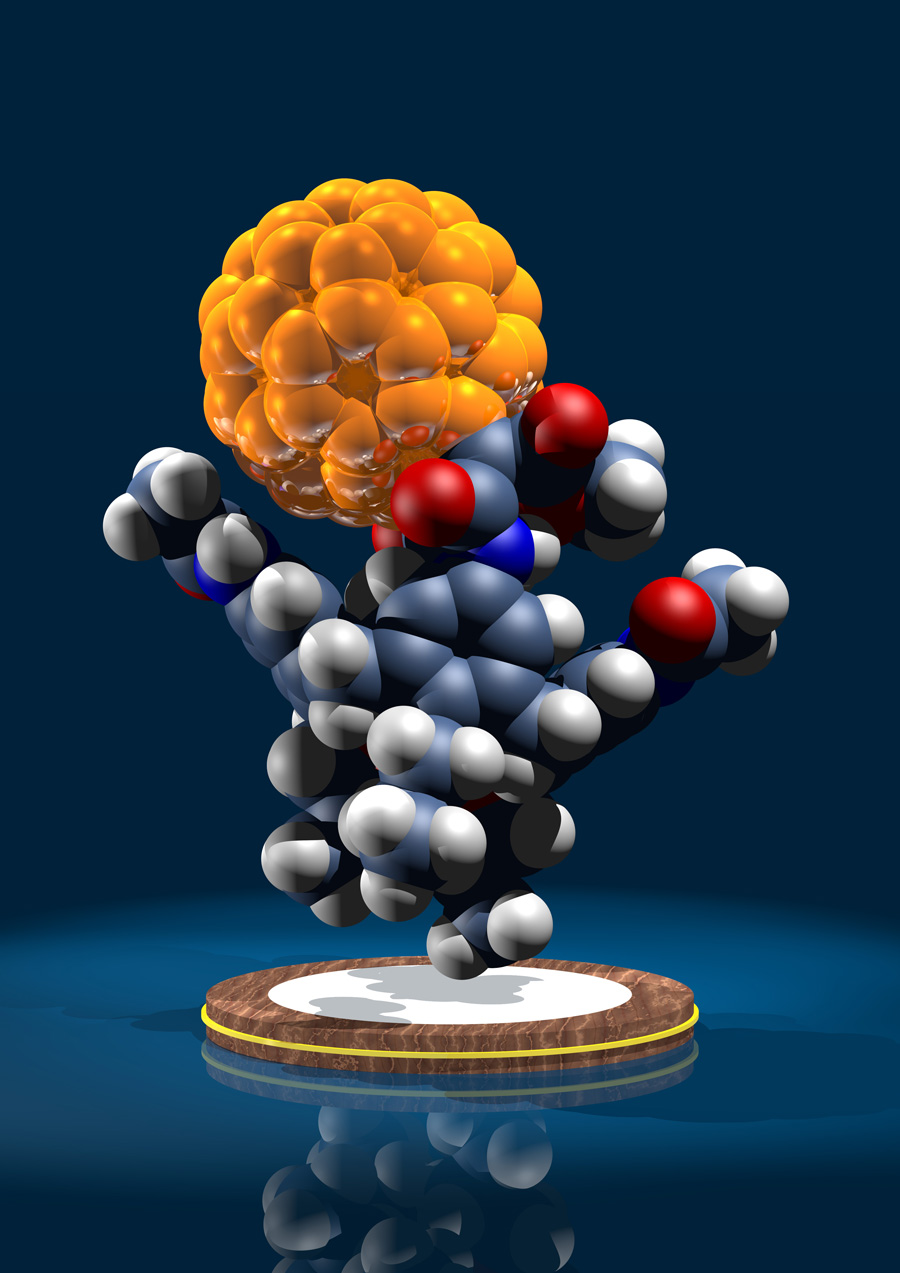 For the construction of molecular assemblies and materials of higher hierarchical order, we systematically employed non-covalent binding motifs such as hydrogen bonding, electrostatic bonding and hydrophobic interactions. For this purpose we design and synthesize new molecules, which carry the required recognition motifs in their periphery. Examples are precisely defined oligo-electrolytes with up 60 charges in their periphery or porpyrines, perylenes, fullerenes and carbon nanotubes that involve Hamilton receptor/cyanuric acid binding motifs. Of practical use are in particular layer-by-layer assembly architectures where positively and negatively charged chromophores are successively deposited on surfaces. In this way for example new photovoltaic devices can be designed.
Selected Publications