Synthetic Carbon Allotropes
Synthetic Carbon Allotropes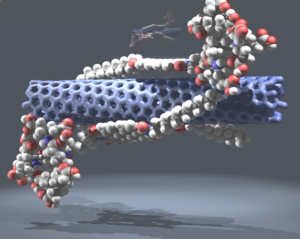 Synthetic carbon allotropes (SCAs) such as fullerenes, carbon nanotubes and graphene are characterized by a number of outstanding and unprecedented properties such as electrical conductivity, mechanical stability and transparency. They are often regarded to be among the most promising candidates for future high performance materials. To reach this challenging goal, chemical functionalization of the parent systems will play a key role. Covalent and non-covalent transformations of SCA can considerably improve and tailor their solubility and processibility and combine their properties with those of other compound classes. For this purpose we are exploring the fundamental chemical properties of SCAs and determine, for example, reaction mechanisms, selectivities of transformations and characteristic addition patterns. Binding of a large variety of organic building blocks including dendrimers, porphyrines, rylenes, sugars and peptides has been accomplished. Using our knowledge in wet-chemical functionalization of fullerenes, carbon nanotubes and graphene; new molecular architectures with remarkable functions such as photo-induced electron transfer, superoxide dismutation and protein simulation have been created. 
Selected Publications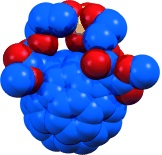 C60-Trisaddukte: Fullerenophosphate mit einem C3-symmetrischen e,e,e-Trisadditionsmuster wurden regioselektiv synthetisiert. In– (siehe Bild; rot O, gelb P, blau C) und out-Invertomere bezüglich der Orientierung der P=O-Gruppe relativ zum Fullerenkern wurden isoliert und ihre Strukturen durch Röntgenstrukturanalyse bestätigt.
The reactivity of re

duced single walled carbon nanotubes (SWCNTs) (carbon nanotubides), prepared under strict inert conditions in a glovebox with respect to the covalent functionalization with hexyl iodide and subsequent exposure to ambient conditions (air, moisture), was systematically investigated by Raman, absorption, fluorescence, and IR spectroscopy as well as by TG/MS measurements. We have discovered that the alkylation does not lead to a complete discharging of the tubes since follow-up reactions with moisture still take place leading to mixed functionalized carbon nanotube derivatives containing H- and OH-addends (but no carboxylates) next to the hexyl groups.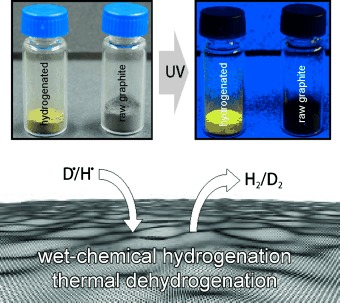 Chemistry meets graphane: a Birch-type reaction using frozen water as a gentle proton source causes the exfoliation of graphite and formation of hydrogenated graphene with electronically decoupled π-nanodomains. This highly functionalized graphene displays pronounced fluorescence.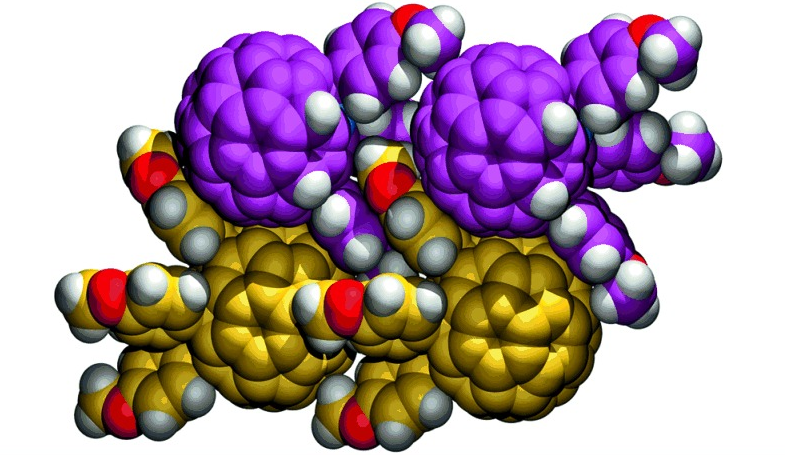 Give me five! The title compounds were isolated from the acid-catalyzed reaction of a C59N precursor with electron-rich aromatic compounds. Single-crystal X-ray diffraction on two compounds reveals characteristic packing motifs; the triaryldihydro derivative has a pseudo-stacked arrangement (C violet/yellow, N blue, O red, H white).

Covalent bulk functionalization of graphene
In: Nature Chemistry

3

(

2011

), p.

279-286




ISSN: 1755-4330


DOI: 10.1038/nchem.1010
, , , , , , , , , , , :
Graphene, a truly two-dimensional and fully π-conjugated honeycomb carbon network, is currently evolving into the most promising successor to silicon in micro- and nanoelectronic applications. However, its wider application is impeded by the difficulties in opening a bandgap in its gapless band-structure, as well as the lack of processability in the resultant intrinscially insoluble material. Covalent chemical modification of the π-electron system is capable of addressing both of these issues through the introduction of variable chemical decoration. Although there has been significant research activity in the field of functionalized graphene, most work to date has focused on the use of graphene oxide. In this Article, we report on the first wet chemical bulk functionalization route beginning with pristine graphite that does not require initial oxidative damage of the graphene basal planes. Through effective reductive activation, covalent functionalization of the charged graphene is achieved by organic diazonium salts. Functionalization was observed spectroscopically, and successfully prevents reaggregation while providing solubility in common organic media.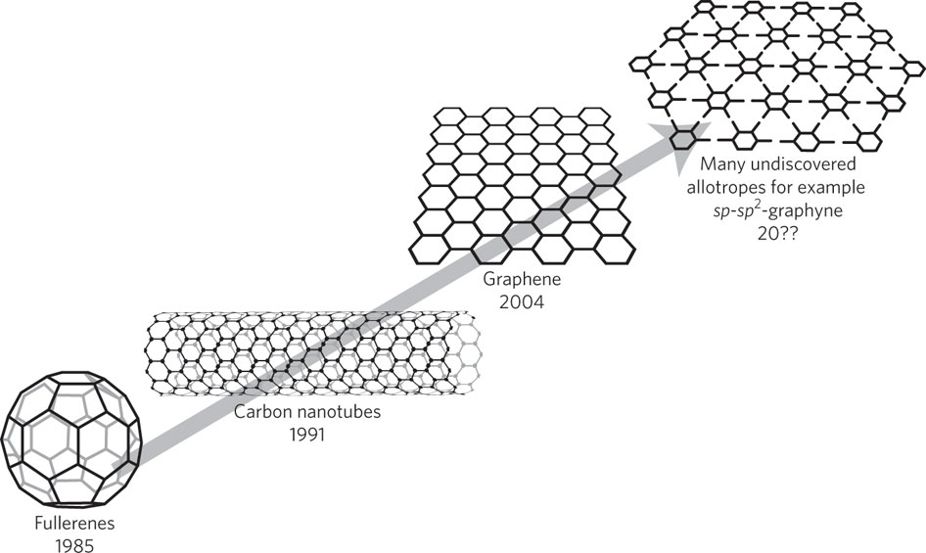 Twenty-five years on from the discovery of C60, the outstanding properties and potential applications of the synthetic carbon allotropes — fullerenes, nanotubes and graphene — overwhelmingly illustrate their unique scientific and technological importance.
Carbon is the element in the periodic table that provides the basis for life on Earth. It is also important for many technological applications, ranging from drugs to synthetic materials. This role is a consequence of carbon's ability to bind to itself and to nearly all elements in almost limitless variety. The resulting structural diversity of organic compounds and molecules is accompanied by a broad range of chemical and physical properties. The tools of modern synthetic chemistry allow the tailored design of these properties by the controlled combination of structural and functional building blocks in new target systems.

Manipulating single-wall carbon nanotubes by chemical doping and charge transfer with perylene dyes
In: Nature Chemistry

1

(

2009

), p.

243-249




ISSN: 1755-4330


DOI: 10.1038/nchem.214
, , , , , , , , , :
Single-wall carbon nanotubes (SWNTs) are emerging as materials with much potential in several disciplines, in particular in electronics and photovoltaics. The combination of SWNTs with electron donors or acceptors generates active materials, which can produce electrical energy when irradiated. However, SWNTs are very elusive species when characterization of their metastable states is required. This problem mainly arises because of the polydispersive nature of SWNT samples and the inevitable presence of SWNTs in bundles of different sizes. Here, we report the complete and thorough characterization of an SWNT radical ion-pair state induced by complexation with a perylene dye, which combines excellent electron-accepting and -conducting features with a five-fused ring π-system. At the same time, the perylene dye enables the dispersion of SWNTs by means of π–π interactions, which gives individual SWNTs in solution. This work clears a path towards electronic and optoelectronic devices in which regulated electrical transport properties are important.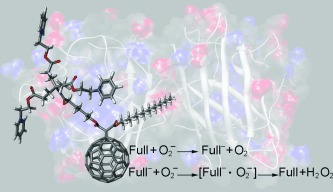 Fullerene antioxidants: A direct correlation between the redox and structural properties of water-soluble fullerenes (see picture) and their reactivity towards superoxide is demonstrated. Some of the C60 monoadducts examined act as superoxide dismutase mimetics. The findings establish a guide for designing fullerene derivatives to catalytically decompose the superoxide radical anion.